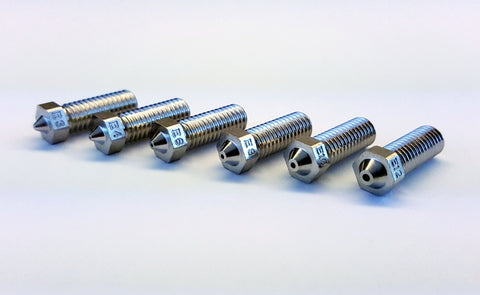 About the Volcano Nozzles Maker's Pack
Volcano-Compatible Nozzle Maker Pack contains 5 nozzles, 1 each of the following: 0.3mm, 0.4mm, 0.6mm, 0.8mm, and 1.0mm.  
Nozzles can be for either 1.75mm or 3mm (2.85mm) filament.  Nozzle pack can be either from our Elite series (brass material), Apollo series (aluminum material) or Hercules series (thru-hardened steel material for abrasive filaments).  
With the versatility and value offered by this bundle, this is the perfect set for the hobbyist, tinkerer or serious printer!  
Compatibility
Volcano Hotend (either 1.75mm or 3mm)